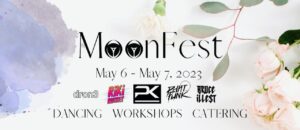 I'll be set up at this event with my handicrafts and also offering mini reflexology and head massage sessions.
Make sure to get your tickets ASAP!
Welcome to our alcohol-free event!
Please check the Discussion for important updates.
We've designed this gathering to provide a safe and nourishing space for everyone, regardless of their dietary restrictions or preferences.
READ CAREFULLY and FOLLOW THE FACEBOOK EVENT PAGE FOR IMPORTANT UPDATES!
We have a lot to offer and fit in and this SCHEDULE IS SUBJECT TO CHANGE.
TICKET SALES END at 11:59 PM, May 3, 2023.
DOORS OPEN AT 5 PM FOR SHOPPING. OPENING CEREMONY AT 6 PM.
This is an all night event, but please feel free to stay as long as you want and leave when you need – attendees may return for the morning painting and yoga.
DOORS WILL BE LOCKED FOR BREATHWORK TO PRESERVE THE CONTAINER (6:15PM-9:00PM).
DOORS RE-OPEN at 9:00 pm Saturday night and remain open until 11am Sunday.
Opening Ceremony at 6PM by Caitie Hueller.
At 6:15 PM the Breathwork Workshop will begin, led by a skilled and certified instructor, Lyndsy McFadden, who will guide you to relax and to go deep to connect within yourself and your body using your breath and body chemistry.
Afterward, we'll serve you a delicious taco spread with options that cater to gluten free, dairy free, vegan and nut free diets. We want to ensure that everyone feels included and is able to enjoy the food without worry.
By now you will be ready for something sweeter and richer – this is your perfect opportunity to enjoy our cacao ceremony where you can indulge in the rich flavours of cacao while connecting with the community. Our facilitator, Pleasure Activator, Lisa Joy Stromsmoe, will guide you through a meditation and invite you to set intentions and lead into our designed for you Pleasure Workshop; she will offer techniques to enhance your sensuality so you can experience greater pleasure in your life.
To quench your thirst, we will have a kombucha bar with locally sourced kombucha and a variety of flavours to choose from. Kombucha is a tasty and healthy alternative to alcohol and we're so excited to share it with you! Fresh filtered, ph balanced water as well as coffee and tea will also be available.
As part of our alcohol free event, we'll be offering a Beginner Twerkshop led by your Hostess, Birgit Allgaier. Twerking has a long, great history and has been stigmatized and objectified by mainstream culture. However in this Twerkshop, we will reclaim this dance form as a celebration of feminism and freedom.
We will have live DJ's playing house/funk music and a variety of other performers, creating a vibrant and energetic atmosphere. You can dance the night away or simply enjoy the music and mingle with a like minded community.
The following morning, for those of you who like to start the day off on a positive note, we'll be offering yoga as well as a painting class, all paint supplies included. Please bring a mat!
We welcome you to join us for all or part of the event as we come together to celebrate and connect in a safe and uplifting space.
Get your tickets here: https://www.eventbrite.ca/e/moonfest-tickets-527475101227?aff=efbeventtix&fbclid=IwAR0znJQZINhzGHqn1PkJ9M1V1k_d1NfxflN6U369nRAZlSe5QBmRfP3qzY4