Weekly Yoga Classes
Mondays at 6pm:
Aerial Yoga Level 1 at Angel's Aerial Fitness.
This class combines the practice of yoga with elements of acrobatics through the use of aerial silks.
Reminder to please remove jewelry and remove or cover sharp piercings to help preserve the silks.
Tight fitting clothing is recommended for less pinching in the silks.
Wednesdays at 7pm:
Get Your Zen On at Angel's Aerial Fitness.
A wonderful way to stretch-it-out and target those really tight spots. During this restorative style class you are taken through a series of postures with longer holds, targeting areas of high tension in the body, to help unlock hidden flexibility and mobility. We work with our breath and matching it to our movements to release tension from both the body and mind, creating a sense of deep relaxation.Leave feeling nourished, refreshed, and completely ZEN! **Please bring 2 yoga blocks, we do have a few extra, just in case**
Wednesdays at 8pm:
Zen Aerial Yoga at Angel's Aerial Fitness.
Slow down and feel supported in the silks as we hold stretches a little longer and connect to our bodies, minds, and souls. This class is a calm, centering class, using the silks to stimulate different acupressure points and to target stiff areas.
*****************************************************
Upcoming Workshops and Events
~~~~~~~~~~~~~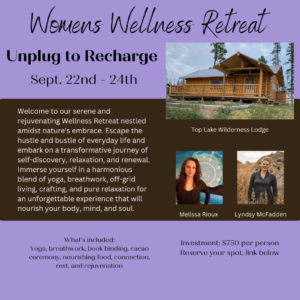 Sept. 22nd – 24th, 2023
Unplug to Recharge Retreat
Top Lake Wilderness Lodge
Welcome to our serene and rejuvenating Wellness Retreat nestled amidst nature's embrace. Escape the hustle and bustle of everyday life and embark on a transformative journey of self-discovery, relaxation, and renewal. Immerse yourself in a harmonious blend of yoga, breathwork, off-grid living, crafting, and pure relaxation for an unforgettable experience that will nourish your body, mind, and soul.
What's included: Yoga, breathwork, book binding, cacao ceremony, nourishing food, connection, rest, and rejuvenation.
Investment: $750 per person
Hosted by Melissa Rioux and Lyndsy McFadden
Click here to book.