Wellness Retreat – Unplug to Recharge
I am hosting a Wellness Retreat with Lyndsy McFadden of Lyndsy McFadden Wellness on Sept. 22nd-24th, 2023.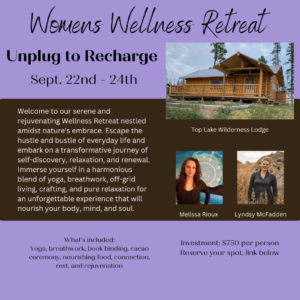 Unplug to Recharge Retreat
Top Lake Wilderness Lodge
Welcome to our serene and rejuvenating Wellness Retreat nestled amidst nature's embrace. Escape the hustle and bustle of everyday life and embark on a transformative journey of self-discovery, relaxation, and renewal. Immerse yourself in a harmonious blend of yoga, breathwork, off-grid living, crafting, and pure relaxation for an unforgettable experience that will nourish your body, mind, and soul.
What's included: Yoga, breathwork, book binding, cacao ceremony, nourishing food, connection, rest, and rejuvenation.
Investment: $750 per person
Hosted by Melissa Rioux and Lyndsy McFadden
Click here to book.